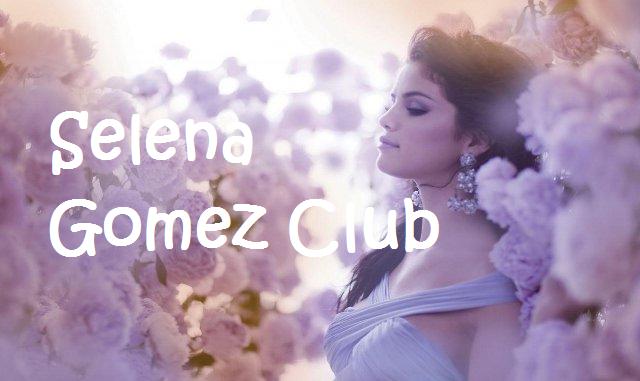 Welcome to the Selena Gomez Club!
About Selena~
Selena Marie Gomez was born July 22nd, 1992. She is a singer and an actress. Selena is famous mostly because she was in the popular Disney Channel TV show Wizards of Waverly Place. Selena Gomez is 5'5'' and is called by Sel, Selly, Selenita, Conchita, and Mamacita. Her career started in Barney & Friends.
More information coming soon.
Albums~
Selena sang
Kiss N Tell
,
A Year Without Rain
, and
When The Sun Goes Down
.

Films~
Members~
ChocoLuv- owner
.1000000 Pts.
Admin- Beginner
.5 Pts.
Rules
1. All forum rules count.
2. No fighting.
3. Don't argue or bully.
4. Don't brag about your rank please.
5. Please be nice.
Form To Join
PP Name:
Nickname: (What do you want us to call you?)
Will you be active:
Do you agree to the rules?:
Ranks~
Beginner (1 Post) .5 SG Points.
Singer (2 Facts) .10 SG Points.
Actress (5 Posts and 1 more fact) .15 SG Points.
Photographer (10 Posts) .25 SG Points.
Fan (10 Facts) .30 SG Points.
Paparazzi (15 Posts) .50 SG Points.
Best Friend (20 Posts) .75 SG Points.
Expert (30 Posts) .90 SG Points.
Sister (50 Posts & 20 Facts) .100 SG Points.
Mom (100 Posts) .200 SG Points.
Points~
Brief Description- Here you can use your Points for cool things.
Earn Points by posting facts and posts. When you move up a rank, you get more
Pts.
Points Shop~
Below 20 Points

5 Pts- SG Signature
10 Pts- SG Graphic (Form will be sent by PM)
15 Pts- SG Graphic Deluxe Version (Form will be sent by PM)
Below 40 Points, Above 20 Points

25 Pts- Animated GIF of your choice. (Form will be sent by PM)
30 Pts- 2 Animated GIF's of your choice. (Form will be sent by PM)
45 Pts- SG Photo
Above 50 Points

200 Pts- SG Fan Pack (Arrives in a week or few days)
300 Pts- SG Fan Pack Deluxe (Arrives in a week or a few days)
Points Mailbox~
You will be notified here and then your gift will be sent to your visitor message box.
NEW MAGAZINE~
Selena Gomez Magazine COMING SOON.
All members of the club get this feature. If you want to unsuscribe from
this, please PM me.
Members get this feature first, then it will be added to the Magazine section. If you were directed to here from the magazine thread, sign up so you will be the first to view the awesome feature!.